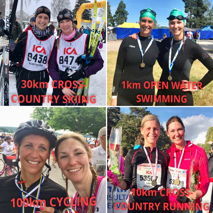 Created By:

Jenny Bergman

Collecting for:
Erika&Jenny2018
We have started this fundraising to the benefit of CancerRehabFonden, which is an independent non-profit organization that provides cancer rehabilitation.

We will do the Lady Classic races ('Tjejklassikern') during 2018. This means that we will complete 4 different races; 30km cross country skiing in February, 100km cycling in June, 1000m open water swimming in July and 10km running in September. We have never done anything like this before and to keep the motivation going we have decided to do this to the benefit of Cancer Rehab Fonden. We both have close family and friends that have suffered from this horrible disease and Cancer Rehab Fonden supports both children and adults to cope.

Edrington Group (employer to one of us) will also double match the amount that we manage to raise, so each 1 kr/£/€ will become = 3 kr/£/€.

So please support us this year and make a donation!

Donate
Jenny Bergman donated 300 kr
Ana Siova

donated

20 kr

Malte Edling

donated

350 kr

Jenny Bergman

Hi All,
We woudl like to say abig THANK you to all of you who sponsored us durign this year. We collected 13650 SEk and with Edrington 'double-match' this will become 40950 SEK to Cancer Rehab Fonden.
So big thank you !!
Jenny & Erika


Katja Skaarud CancerRehabFonden

Hej Erika & Jenny

Tusen tack till er båda för ert stöd till CancerRehabFonden – det uppskattas enormt. Och vad roligt att eran insamling gick så bra!
Tillsammans hjälper vi ännu fler cancerdrabbade medmänniskor tillbaka till livet.

Stort grattis till genomförd Tjejklassiker från alla oss på CancerRehabFonden

Cecilia Sjöberg

donated

300 kr

Dale Marshall

donated

500 kr

Jenny Bergman

donated

300 kr

Jenny Bergman

We did it!!! 😀 Yesterday we completes the last race out of the 4 in the Swedish Lady Classics. Big thank to all of you that have given us support and made donations. It kept us going!

Ulrika Hedlund

donated

300 kr

Jenny Bergman

Less than 3 weeks to go for our final race (10km running). by that time we have - hopefully - completed all 4 races in the Swedish Lady Classics to the benefit to Cancer Rehab Fonden. Please help us and share this so that we can give as much as possible to the charity. Remember that Edringtno will double match every single donation. That means every 1 £/€/kr = 3£/€/kr

Tara Nikula

donated

300 kr

David Nish

donated

500 kr

Well done, Jenny. Good luck with the run.

Pamela Marshall

donated

500 kr

Well done Jenny - such an amazing cause (next you'll be doing Triathlons regularly!!) ;0)

Maria Sund

donated

200 kr

Shrikar Keskar

donated

300 kr

Alastair Currie

donated

300 kr

Go Jenny! Great effort with the swimming and cycling, and a fantastic cause.

Jenny Bergman

Two out of the 4 races are now complete! We completed the cross country skiing race in February and the cycling race yesterday! It was a great experience!
Time to start preparing for the third one; open water swimming in July

LG Bergman AB

donated

500 kr

Ulla och Lasse Bergman

donated

1,000 kr

Trish Livingstone

donated

200 kr

Scott Adams

donated

200 kr

Alastair Burke

donated

500 kr

Malte Edling

donated

500 kr

Bra initiativ och en bra början på klassikern.

Teresia Wikström

donated

250 kr

Härligt "systrarna" Bergmans! Heja Heja! Lycka till! :)